There are many good reasons for practicing yoga, especially Tibetan Healing Yoga*. But the most beautiful reason for me: Yoga gives joy of life, deep relaxation of body and mind and the longed-for balance in everyday life.
Lu Jong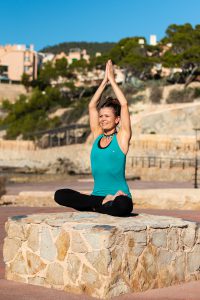 Already 20 minutes daily can cause small miracles. And the good news is: it works – always and for everyone!
Lu Jong is a gentle and yet very effective movement theory, which was developed over 8.000 years ago in Tibet and adapted to today's and Western needs.
The exercises of Tibetan Yoga are fascinatingly simple and at the same time very effective, so that the saying "in simplicity lies the truth" gets its justification here. They are easy to integrate into everyday life, increase the energy level and in a playful lightness the mobility comes "by itself".
It has a positive effect on the well-being of body and mind, vitality, general mobility and in particular the spine. It improves the functionality of the vital organs, the breathing, has a rejuvenating and relaxing effect. In addition, the exercises release physical and energetic blockages and help to release negative emotions.
Benefits you can feel almost instantly and with little time expenditure!
Besides giving me physical and emotional stability, Lu Jong has also touched my heart deeply. In great respect and gratitude to my teacher Tulku Lobsang Rinpoche, I feel very happy to teach and share it.
Are you ready to show a little discipline every day?
It is a good investment in the health of your body – your home, your temple – and an expression of self-love.
Even if you are a mother or a manager: Take 20 minutes a day for yourself!
Dates
Group lessons in Palma and Sóller
Individual lessons on request
Home visits possible